Recordings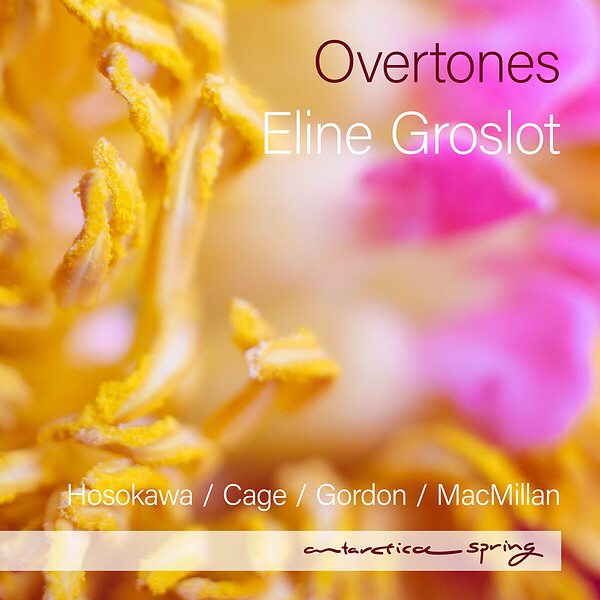 Overtones: Eolian for harp and orchestra
Antarctica Records AR 050
Geoffrey Gordon's concerto for harp and orchestra, Eolian - inspired by the Samuel Taylor Coleridge poem - was commissioned by the Brussels Philharmonic and is recorded here by the orchestra, with soloist Eline Groslot and conductor Karen Kamensek, on the Antarctica Records label.
"A spectacular Concerto for Harp and Orchestra (Brussels Philharmonic) composed in 2022 by composer Geoffrey Gordon is the core of the recording."
- The Vinyl Groove (April 2023)
"[Overtones] is built around Geoffrey Gordon's haunting and intense Eolian: Concerto for Harp and Orchestra, presented here in its world premiere recording."
- CD Hotlist (June 2023)
A new, dramatic and virtuosic concerto in three movements for harp and orchestra, Eolian draws title and inspiration from the well-known poem The Eolian Harp (1795) by English Romantic poet, Samuel Taylor Coleridge (1772-1834). The concerto, referencing the Aeolian harp (in fact a small lute-like instrument which creates melodious music when the wind blows across its strings), channels the beauty and intensity of expression which Coleridge brings to his deeply expressive and personal text. Allegorically, the harp symbolizes the poet and the wind symbolizes God's breath - the poem contemplates man's relationship with nature and the divine. Both the order and chaos found in nature abound here as the orchestra's palette evokes sensual pleasure, divine force and staggering creative power, through Gordon's lyrical and luminous writing. A riveting and intense first movement: "A light in sound, a sound-like power in light, Rhythm in all thought, and joyance everywhere—". The exquisite slow second movement, contemplative, hushed and suspended: "Where the breeze warbles, and the mute still air Is Music slumbering on her instrument…", "The sunbeams dance, like diamonds, on the main...". The apogee of nature's beauty represented as the purest form of allure and joy in the final movement: "Bubbles that glitter as they rise and break On vain Philosophy's aye-babbling spring…". Gordon's Eolian marks an outstanding addition to the harp repertoire and to 21st century orchestral music more generally.
05 May 2023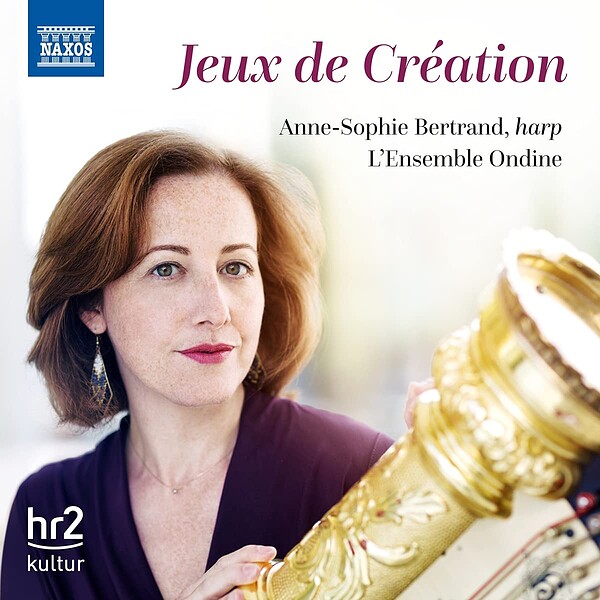 Jeux de Création
Naxos 8.551444
This recording is a tribute to the chromatic harp, which, with its rich colours and theatrical effects, was perfectly tuned to the impressionist and art nouveau atmosphere of the turn of the 20th century. Geoffrey Gordon's Jeux de Création is inspired by music from the 1920s, using both traditional and extended techniques, drawing on themes by Milhaud and Debussy to portray the past and present. Reflecting this aesthetic, the other works in this programme include the artistry of Ravel and Fauré, the quasi-orchestral effects of Debussy's Danses, and Caplet's sensuous and spectacular Divertissements.
"Jeux de Création by the American composer Geoffrey Gordon is a brilliant, even spectacular, work in all respects."
- Pizzicato (December 2021)
"Absolutely the most interesting piece on this entire album is Gordon's Jeux de Création, music that is not just modern but very creative and highly atmospheric."
- The Art Music Lounge (October 2021)
04 November 2021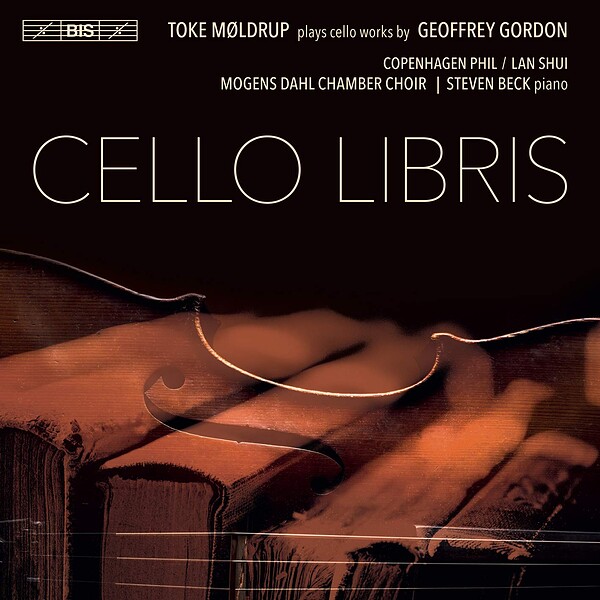 Cello Libris
BIS 2330 CD
Dividing his time between the United States and the United Kingdom, the composer Geoffrey Gordon writes music that has been described as 'darkly seductive' (New York Times), 'richly satisfying' (BBC Music Magazine) and 'iridescent and fierce' (The Chicago Tribune). The present, amply-filled disc brings together three of his recent works, all composed between 2013 and 2018 for the soloist recording them here, the Danish cellist Toke Møldrup. In several of his works, Gordon takes his inspiration from other art forms – sculptures by Giacometti, a self portrait by Warhol, a children's picture book by Maurice Sendak.
The works gathered here are inspired by or reactions to three literary masterworks. The 'creative blueprint' for the opening work, the Cello Concerto, is the novel Doktor Faustus by Thomas Mann. Organized into a Prologue and Seven Episodes, the work traces the progress of Mann's protagonist Adrian Leverkühn from innocence to madness, with the cello both embodying and (occasionally) commenting on the proceedings. For this recording, Møldrup receives the support of the Copenhagen Phil and conductor Lan Shui. In the score of Fathoms, Gordon's sonata for cello and piano, each of the five movements is headed with a quotation from Shakespeare's The Tempest which sets the scene for the musical impression that follows. Here Møldrup is joined by the American pianist Steven Beck. The amply-filled disc closes with Ode to a Nightingale, with the words of John Keat's immortal poem heard from the Mogens Dahl Chamber Choir, and given emphasis by Toke Møldrup's obbligato cello.
10 April 2020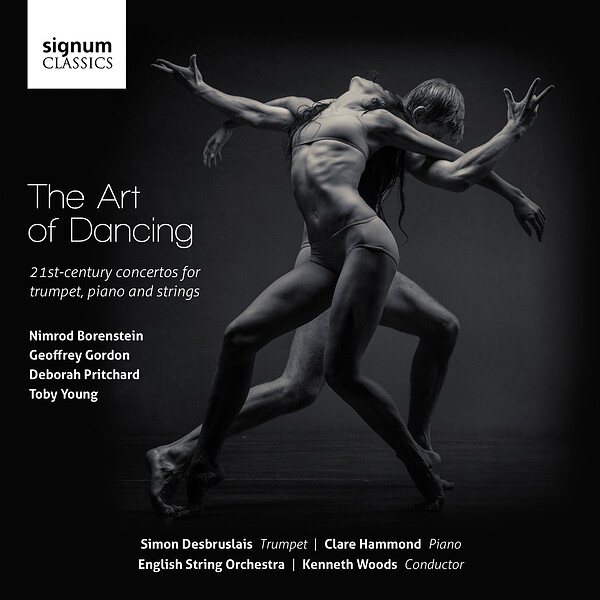 The Art of Dancing: Saint Blue
Signum SIGCD513
Simon Desbruslais returns to disc on Signum with an album that continues to expand the repertoire of the trumpet even further, with four new commissions for Trumpet, Piano and String Orchestra,including a new double concerto by US/UK composer Geoffrey Gordon.
Geoffrey Gordon's Saint Blue is inspired by the visionary artist Wassily Kandinsky, creating a double concerto with a remarkable jazz-inspired cadenza between the trumpet, piano and double bass.
For these premiere recordings Simon Desbruslais performs with pianist Clare Hammond, accompanied by the English String Orchestra under Kenneth Woods.
25 August 2017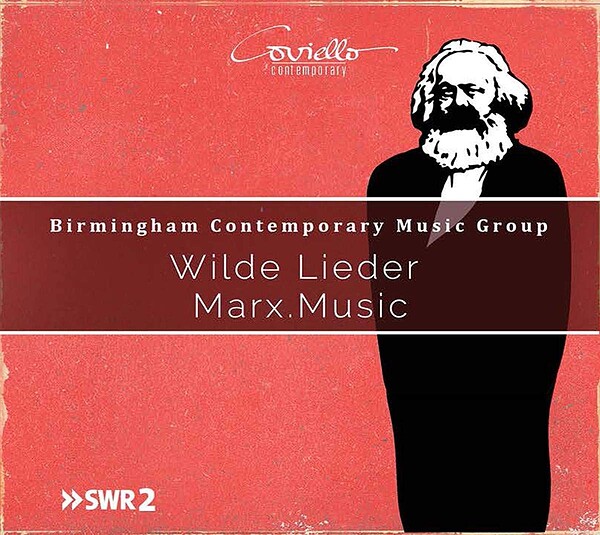 BCMG: Wilde Lieder Marx.Music
Coviello COV-91914
Karl Marx has said very little about music; from a Marxist point of view this could be explained by the fact that, since he spent most of his adult life in poverty in London, he had no opportunity to experience music. However, this has not prevented composers, especially in the last hundred years, from making him their subject or using his thoughts and this CD represents works by Pattar, Newski and others. The Birmingham Contemporary Music Group is one of the worlds foremost new music ensembles. Over three decades, BCMG has developed the music of today for the audiences of tomorrow. Founded by musicians from the City of Birmingham Symphony Orchestra in 1987, with Sir Simon Rattle as Founding Patron, the BCMG has reached over 10 million people in concert and through broadcasts and are ideal interpreters to present this music. For the Marx Year 2019 some current examples of the musical engagement with Marx are presented here, including composer Geoffrey Gordon's setting of Marx's Harmonie -An Jenny, a romantic early poem, set for soprano and cello, here featuring soprano Elizabeth Atherton and cellist Ulrich Heinen.
05 July 2019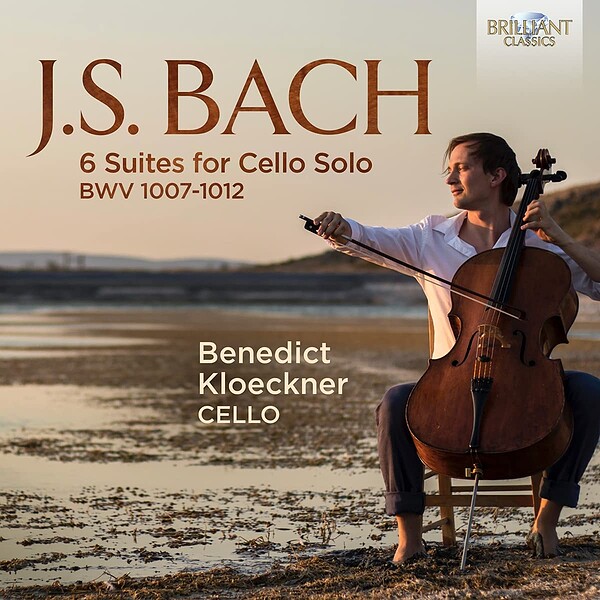 6 Suites for solo cello/Nes qu'on porroit
Brilliant Classics 96403
A highly regarded representative of the new generation of cellists, Benedict Kloeckner has been championed by such maestros as Daniel Barenboim and Sir Simon Rattle. With a discography including an acclaimed recording of the Schumann Cello Concerto nominated for the German Record Critics prize, Kloeckner also demonstrates a great interest in new music. He plays an Italian Cello by Francesco Rugeri (Cremona 1690), formerly played by Maurice Gendron.
In this three-disc set he tackles the sacred summit of the solo cello repertoire, rightly pointing out that the lack of original manuscripts for the Six Suites leaves them especially open to individual interpretation. Yet he takes a further step in making this recording his own, interpolating between each of the suites miniature compositions for solo cello that he commissioned from composers on six different continents under the motto "Sounds of Light", thereby placing Bach's Western European masterworks in dialogue with music from across the globe in our own time, including Geoffrey Gordon's dramatic and expressive Nes qu'on porroit - "a work that alternates between deep lamentation and rioting" (Allgemeine Zeitung).
04 October 2021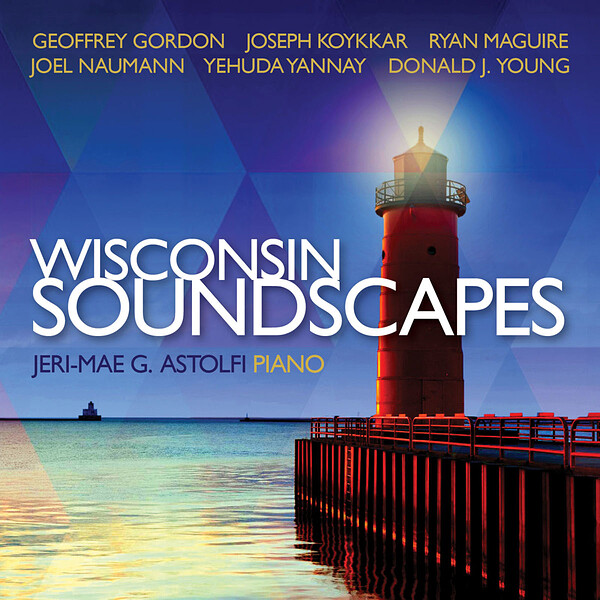 WISCONSIN SOUNDSCAPES
Ravello Records RR7903
On the Ravello Records release WISCONSIN SOUNDSCAPES, pianist Jeri-Mae G. Astolfi performs solo piano works by six composers who highlight people, places, scenes, and events chosen by each composer to create an imaginative portrait of the American landscape, including celebrated US/UK composer Geoffrey Gordon's Three Summer Sketches which illustrates impressions of the rich and evocatively named town of Black Earth, the old mining town of Mineral Point, and the theater and cultural center of Spring Green.
10 March 2015