Biography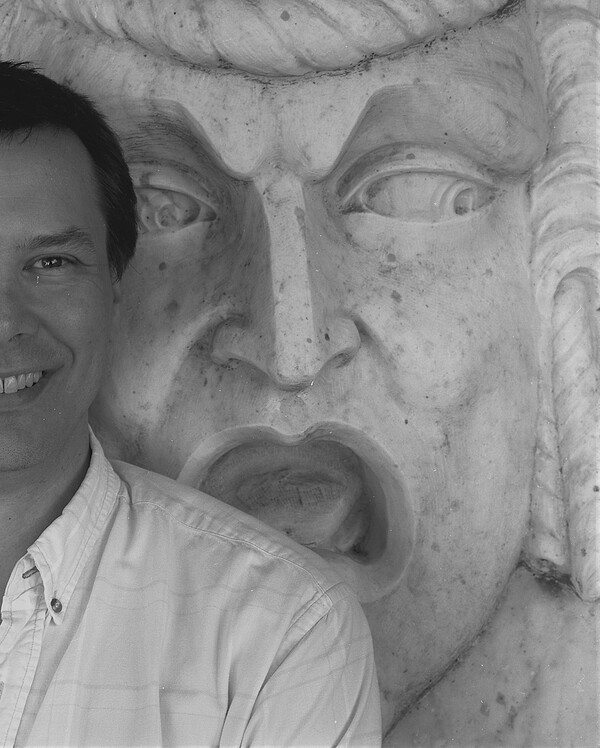 US/UK composer Geoffrey Gordon's contributions to the contemporary music repertoire have been and continue to be exceptional. Intense and luxuriant harmony, passionate melody and superb handling of instrumentation and sonic textures define his music. His works include orchestral and chamber music—vocal and instrumental —as well as scores for theater, dance and film. His music has been called "darkly seductive" (New York Times), "complex, richly-satisfying " (BBC Music Magazine), "luminous and ecstatic" (Gramophone), "taut and exhilarating," (Classical Ear), "iridescent and fierce" (The Chicago Tribune), "haunting" (Strings Magazine), "gripping" (Bachtrack) and "magnificent" (Fanfare). Critic Richard Hanlon of MusicWeb International credits Gordon's music with "flashes of vocal writing which recall Britten at his best." The Philharmonia identifies "his infectious style" and "an ear for melody"- The New York Times his "zest for sonic experimentation".

Geoffrey Gordon has worked with and been commissioned by many of the finest ensembles in the world, including The Philharmonia, BBC Philharmonic, the Munich Philharmonic, the Minnesota Orchestra, Malmö Symfoniorkester, the Cleveland Orchestra, the Dallas Symphony, the Copenhagen Philharmonic, the English String Orchestra, Frankfurt Radio Symphony Orchestra, WDR Symphony Orchestra Cologne, the Milwaukee Symphony, the Buffalo Philharmonic, Britten Sinfonia, Birmingham Contemporary Music Group, JACK Quartet, Boston Modern Orchestra Project, the San Francisco Contemporary Music Players and the International Contemporary Ensemble. Upcoming and recent commissions include works for BBC Philharmonic and BBC Radio 3, Orchestre Philharmonie de Radio France, Orchestre de la Suisse Romande, Antwerp Symphony, Brussels Philharmonic, St Paul Chamber Orchestra, Swedish Chamber Orchestra, Hong Kong Sinfonietta and Lausanne Chamber Orchestra, and a major orchestral recording project with BBC Scottish Symphony Orchestra. His chamber music has premiered worldwide, including at Carnegie Hall in New York, the Schoenberg Center in Vienna, Hakuju Hall in Tokyo, and St John's Smith Square and Conway Hall in London. In 2021/22 cellist Benedict Klöckner releases on CD and premieres a new solo commission in Berlin (Philharmonic Hall), Frankfurt (Alte Oper) and New York (Carnegie Hall). Gordon has been commissioned to write a work for organ solo for premiere in November 2022 as part of the Jubilee commemoration at Coventry Cathedral. A new song cycle commissioned for baritone Jacques Imbrailo will premiere at Oxford Lieder.

Recently, and in a run of outstanding concerti commissions, the Philharmonia under Martyn Brabbins gave the world premiere of Gordon's bass clarinet concerto, Prometheus, after the treatment by Franz Kafka, at Royal Festival Hall, London, with US and Nordic premieres in 2019 with the Minnesota Orchestra under Osmo Vänskä and Malmö Symphony under Marc Soustrot. In the 2022/3 season, the BBC Philharmonic in conjunction with BBC Radio Three premieres, Gordon's new bassoon concerto Anima Mia with soloist Roberto Giacagali. L'Orchestre de la Suisse Romande which co-commissioned the work will give the Euro premiere. In October 2022, Brussels Philharmonic will premiere Gordon's
new harp concerto Eolian with soloist Eline Groslot, and later a new Bb clarinet concerto, and in June 2024, Frankfurt Radio Symphony premiere Gordon's new oboe concerto Creavit Deus Hominem with soloist José Vegara. Gordon's concerto for English horn and orchestra, Mad Song, after William Blake's well-known poem, will premiere in November
2022 with Antwerp Symphony with soloist Dimitri Mestdag. In other highlights, the National Taiwan Symphony Orchestra (NTSO) with soloist Toke Møldrup will give the Asian premiere of his Doktor Faustus Cello Concerto : this work, as well as Gordon's ravishing setting of Keats' Ode to a Nightingale for choir and cello, which premiered in May 2018 in Copenhagen, was released on Cello Libris, a new disc on the BIS records label, featuring the Copenhagen Philharmonic under conductor Lan Shui. Gordon's song cycles Peter Quince at the Clavier and Sonnets from Neruda premiered in March 2018 at the Arnold Schoenberg Center, Vienna, and in October 2017, the Munich Philharmonic under James Gaffigan premiered his trumpet Concerto CHASE after the sculptures of Giacometti. His cello sonata FATHOMS premiered at Carnegie Hall in December 2015 and his Winterleben for horn, mezzo and piano (commissioned for Los Angeles Philharmonic principal horn, Andrew Bain) premiered in August 2015 as part of the 47th International Horn Symposium in Los Angeles. His Saint Blue, (trumpet, piano and strings), which was commissioned by the English String Orchestra, has been released commercially on the Signum label, and was praised in the BBC Music Magazine: "a sonic exploration of the sacred and profane in a complex and richly satisfying work". Gordon received the 2015 commission award from the American Music Project with a major new chamber work for clarinet and string quartet (the JACK Quartet and Anthony McGill, principal clarinet of New York Philharmonic) which premiered in New York City and Chicago. His riveting horn trio THORN was premiered by Ben Goldscheider, Callum Smart and Richard Uttley in London in February 2019, and his chamber work Cosmic inflation, based on research into the first vibrations of the universe commissioned by Muse-IC Project, hosted by Institut Curie, premiered in March 2019 in Paris with members of the Orchestre Philharmonique de Radio France. His Harmonie - An Jenny, for soprano and solo cello, was a prize winner in the Birmingham Contemporary Music Group's Marx Lieder Competition, premiered by BCMG in Marx's hometown of Trier, Germany and was released on CD on the Coviello label. His Jeux de Création for solo harp features as title track on a recent CD release on the Naxos label, and received concert premiere in 2022 by Orchestre Symphonique de Montréal principal harp, Jennifer Swartz, on a program at the Salle Bourgie in Montréal. A new solo cello work for cellist Benedict Klöckner included in Mr. Klöckner's recitals in Berlin (Philharmonic Hall, 25.6. 2021), Frankfurt (Alte Oper 11.12.2021) and New York (Carnegie Hall, November 2021) and cd release. His choral work, Crucifixus, for double choir and solo cello, featured during the Holy Week Festival in London, in April, 2020, with the Choir of Royal Holloway, at St. John's Smith Square. Hi Saar Berger, solo horn at Ensemble Modern Frankfurt, premiered a new work, Roman Rituals, as part of the prestigious Donaueschingen Music Days Festival in October, 2020. His Crucifixus for double choir and cello is to be performed in London during Holy Week. His solo trumpet work He Saith among the trumpets, inspired by the poems of Alun Lewis, premiered at Wigmore Hall (broadcast on BBC3) by Simon Höfele as part of the Wigmore Autumn 2020 re-launch concert series after Covid.

Honoured by a number of residencies internationally, he has twice served as composer-in-residence at the Aaron Copland House and is winner of 2017-18 Mario Merz Prize for Music, an honour which included a major commission for the 2018 concert season. He is also a finalist for the 2019 Krzysztof Penderecki International Composers Competition Award and he
has served a residency at the International Centre for Composers in Visby, Sweden. His work has been funded by the Barlow Endowment, the National Endowment for the Arts, the United Performing Arts Fund, the Concert Artists Guild, the American Composers Forum, Meet the Composer, New Music USA, the MacArthur Foundation, the American Music Center, the Abelson Foundation, the Mary Flagler Cary Trust, the Cheswatyr Foundation and the Bush Foundation. He has been in residence at the La Napoule Arts Foundation in Cannes, and at the historic Cliff Dweller Club in Chicago. He has been nominated for the Chamber Music Society of Lincoln Center's Elise Stoeger Prize, and recognized by the Academy of Arts and Letters. He has received academic fellowship support from Boston University, New York University and the Guildhall in London. An advocate for composers' rights, Gordon has also served as an ASCAP representative in Washington, lobbying Congress on behalf of copyright protection and digital media law. Complete collections of his works are held in libraries around the world, including the Loeb Music Library at Harvard University, the Music Library at Northwestern University, the Bayerische Staatsbibliothek in Munich and the National University of Singapore, among many others.