Biography
US/UK composer Geoffrey Gordon's contributions to the contemporary music repertoire have been and continue to be exceptional. Intense and luxuriant harmony, passionate melody and superb handling of instrumentation and sonic textures define his music. His works include orchestral and chamber music—vocal and instrumental —as well as scores for theater, dance and film. His music has been called "darkly seductive" (New York Times), "complex, richly-satisfying " (BBC Music Magazine), "luminous and ecstatic" (Gramophone), "taut and exhilarating…
"What Gordon presents, like (Robert) Schumann when he refers to the mad musician Kreisler, is a composer's private transformation of his own literary response into musical notation...."
Huntley Dent -Fanfare
"One of the attractive features common to all three pieces is the elegance and symmetry of Gordon's formal designs; the composer writes superbly for the orchestra while its delicately varied expressive content packs a lingering emotional punch."
Richard Hanlon -Musicweb International
"I could have neatly made a comparison with Thomas Adès's opera of The Tempest if Gordon had orchestrated Fathoms, but never mind. It's enough to say that Gordon's use of the orchestra in the concerto is just as ingenious and imaginative as Adès's."
Huntley Dent -Fanfare
"Geoffrey Gordon's Saint Blue is the bluesy soul of jazz in this complex, richly-satisfying work."
Kate Wakeling -BBC Music Magazine
"The darkly seductive Clarinet Quintet by Geoffrey Gordon combines a zest for sonic experimentation with a four-movement structure built around thematic signposts — reiterations of an opening motif — that guide the listener through a colorful and atmospheric journey."
The New York Times
".... flashes of vocal writing which recall Britten at his best."
Richard Hanlon -Musicweb International
"The choral setting enables an appreciation of Gordon's harmonic world from a different sonic perspective: listen to the sheer sonic gold of the line 'Where Beauty cannot keep her lustrous eyes,' for example. This is a gorgeous setting of the Keats poem. The music resonates on within us after the sound has finished."
Colin Clarke -Fanfare
"…luminous and astringent by turns….. ecstatic."
Richard Whitehouse -Gramophone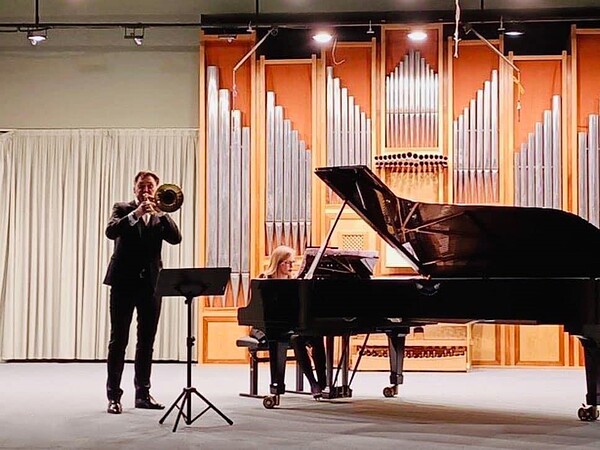 28 September 2023
Studio recording of Vermilion for tenor trombone and piano
The studio recording of Geoffrey Gordon's Vermilion for tenor trombone and piano, after the painting by Matisse, featuring trombone soloist Håkan Björkman (Principal trombone, Swedish Radio Symphony Orchestra and Chamber Orchestra of Europe) and pianist Pilar Beltran is now available for streaming on Soundcould. Vermilion on Soundcloud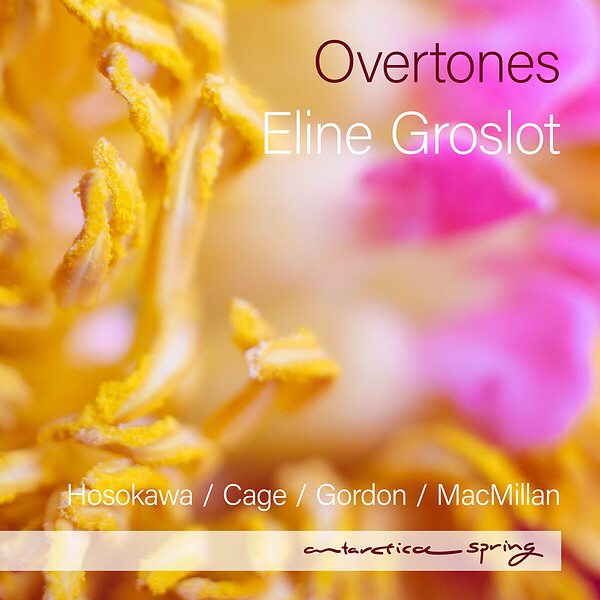 Overtones: Eolian for harp and orchestra
Antarctica Records
•
AR 050
Geoffrey Gordon's concerto for harp and orchestra, Eolian - inspired by the Samuel Taylor Coleridge poem - was commissioned by the Brussels Philharmonic and is recorded here by the orchestra, with soloist Eline Groslot and conductor Karen Kamensek, on the Antarctica Records label.
"A spectacular Concerto for Harp and Orchestra (Brussels Philharmonic) composed in 2022 by composer Geoffrey Gordon is the core of the recording."
- The Vinyl Groove (April 2023)
"[Overtones] is built around Geoffrey Gordon's haunting and intense Eolian: Concerto for Harp and Orchestra, presented here in its world premiere recording."
- CD Hotlist (June 2023)
A new, dramatic and virtuosic concerto in three movements for harp and orchestra, Eolian draws title and inspiration from the well-known poem The Eolian Harp (1795) by English Romantic poet, Samuel Taylor Coleridge (1772-1834). The concerto, referencing the Aeolian harp (in fact a small lute-like instrument which creates melodious music when the wind blows across its strings), channels the beauty and intensity of expression which Coleridge brings to his deeply expressive and personal text. Allegorically, the harp symbolizes the poet and the wind symbolizes God's breath - the poem contemplates man's relationship with nature and the divine. Both the order and chaos found in nature abound here as the orchestra's palette evokes sensual pleasure, divine force and staggering creative power, through Gordon's lyrical and luminous writing. A riveting and intense first movement: "A light in sound, a sound-like power in light, Rhythm in all thought, and joyance everywhere—". The exquisite slow second movement, contemplative, hushed and suspended: "Where the breeze warbles, and the mute still air Is Music slumbering on her instrument…", "The sunbeams dance, like diamonds, on the main...". The apogee of nature's beauty represented as the purest form of allure and joy in the final movement: "Bubbles that glitter as they rise and break On vain Philosophy's aye-babbling spring…". Gordon's Eolian marks an outstanding addition to the harp repertoire and to 21st century orchestral music more generally.
5 May 2023
See All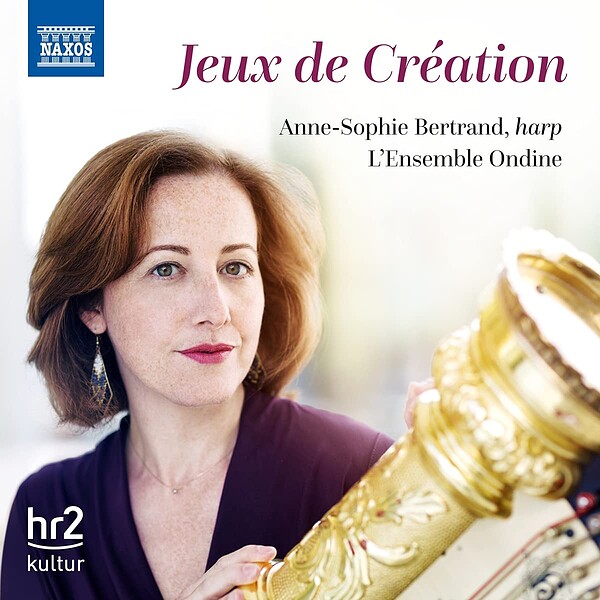 Jeux de Création
This recording is a tribute to the chromatic harp, which, with its rich colours and theatrical effects, was perfectly tuned to the impressionist and art nouveau atmosphere of the turn of the 20th century. Geoffrey Gordon's Jeux de Création is inspired by music from the 1920s, using both traditional and extended techniques, drawing on themes by Milhaud and Debussy to portray the past and present. Reflecting this aesthetic, the other works in this programme include the artistry of Ravel and Fauré, the quasi-orchestral effects of Debussy's Danses, and Caplet's sensuous and spectacular Divertissements.
"Jeux de Création by the American composer Geoffrey Gordon is a brilliant, even spectacular, work in all respects."
- Pizzicato (December 2021)
"Absolutely the most interesting piece on this entire album is Gordon's Jeux de Création, music that is not just modern but very creative and highly atmospheric."
- The Art Music Lounge (October 2021)
4 November 2021
See All